Avoiding Pests and Disease When Pruning
Avoiding pests and disease when pruning takes steps such as pruning at the right time, taking note of the current local pests and disease trends. and possibly disinfecting tools between plants and/or cuts. All factors considered, proper pruning cuts should be considered the most crucial preventative measure in avoiding pests and disease when pruning.
Pruning trees at the right time is an important step to help avoid pests and disease transmission. Pruning in the dormant season, pruning in dry weather, and pruning when insect vectors are least active are all good preventive measures. Although timing can be a contributing factor, improper pruning is a much higher concern. Improper cuts will cause far greater damage to your tree than pruning at the wrong time of year.
Houston is home to many pests such as aphids, scale, lacebugs, ips beetles, and spider mites. Along with these pests, wood decaying fungi and bacterial pathogens can cause our trees problems. Improper pruning can leave a tree vulnerable to infestation and infection. Avoiding pests and disease when pruning is best achieved by making proper cuts in the correct locations at the right time with the right tools.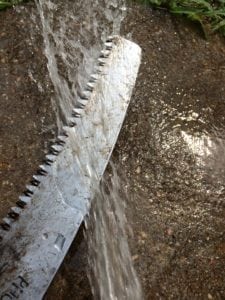 Under some special circumstances, disinfecting tools may be necessary in avoiding pest and disease when pruning. Tools might require sterilization between trees, or even between each cut. When sterilization is necessary, it is important to use a substance that will not damage plant tissue.